High Quality Gasoline for Boats and Yachts
Peterson Fuel is available for home and boat delivery and by drive-up traffic to our barge. The Peterson boat fuel barge is typically located between the Hall of Fame Marina and Bahia Mar just south of the Las Olas Bridge on the Intracoastal next to Channel Marker 11.
High Grade Gasoline Boat Fuel – Ethanol Free / REC 90 octane
Peterson's fuel prices are better than our competitors
Servicing all home docks and traffic on the ICW in Fort Lauderdale
Yachts Welcomed – We fill storage tanks for tenders, jetskis and toys
Quality, Price, Convenience and Professional Service.
U.S.C.G. Licensed Barges and Captains.
High Speed Pumps
Our hydraulic spud poles allow us to anchor and fuel vessels virtually anywhere, anytime, within tight quarters.
Our professional, USCG licensed, captain's assist with the fueling process.
We maintain records logs for every fueling. We know the set up and procedure to make your fueling easy.
Peterson Fuel is committed to safe and environmentally friendly procedures. Read our Environmental Stewardship mission statement
Peterson Fuel Delivery excels at providing our customers "Tanker Direct Pricing" – diesel fuel prices and gasoline significantly below fuel docks.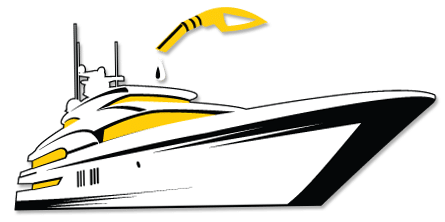 Serving South Florida since 1997. Peterson Fuel stands ready to service your vessel with our fleet of state-of-the-art fuel ships and with the highest quality MGO marine diesel fuel and 90 octane / non-ethanol high quality gasoline.